NRG Solar, Redback & EnergyAustralia
Solar + Batteries Exclusive Offer
Finally, an affordable solar and battery solution!
Solar and Battery storage gives you greater control of your power use and enables you to take advantage of the solar energy your home generates. We've partnered with Redback Technologies and EnergyAustralia to help make solar and battery solutions more affordable for South Australians. This offer is designed to test how the market responds to affordable battery technology.
But we only have 50 solar and battery storage systems available for this limited trial offer.
The 7kW PV Solar + 4.8kWh Battery system includes:
26 x 270W Q Cells Q.Power-G5 quality panels
Redback Smart Hybrid System
4.8kWh of lithium-ion batteries
This solar and battery package is available for just $10745*, which is less than the cost of some batteries on the market today.
Plus switch to EnergyAustralia and sign up for their PowerResponse program to receive a $1,000 credit on your EnergyAustralia electricity bill as well as a $20 credit for every demand response event you participate in over 3 years* making for an even shorter payback period on the system. Existing EnergyAustralia customers are also eligible.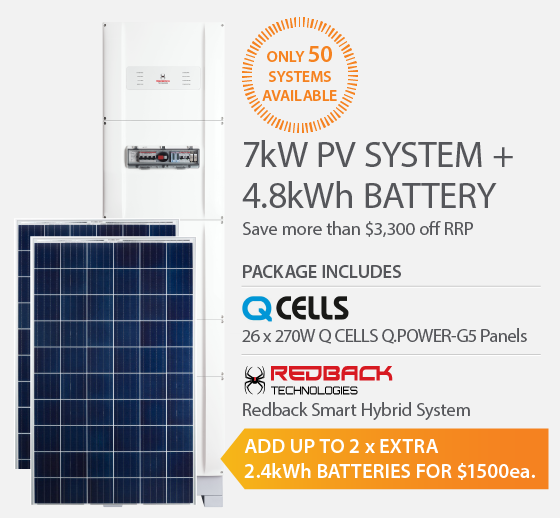 This package delivers a massive saving of $3367 off of the recommended retail price.
Plus, you can upgrade your system by adding up to two additional 2.4kWh batteries for $1500ea allowing you to store and use even more of your solar energy.
Warranty Information
This package is backed by NRG Solar's 5-year workmanship warranty, Redback's 5-year inverter warranty and Q Cells' panel 12-year product warranty and 25-year linear performance warranty.
Get a $1000 credit on your electricity bill with EnergyAustralia's PowerResponse Program
Partner with EnergyAustralia (EA) and receive a $1,000 credit on your EA electricity bill as well as a credit for every demand response event you participate in over 3 years.*
PowerResponse, EnergyAustralia's Demand response program, could help you get even more from your investment, giving you the opportunity to pay-off your investment faster whilst simultaneously helping to contribute to a more reliable electricity supply for all Australians.
Save as much as $2200 with PowerResponse
Allowing EnergyAustralia to partner with your Redback system during periods of critically low electricity supply ('events'), you will be provided with the following incentives:
Upfront Fee-for-Service = $1000 once-off rebate on an EnergyAustralia electricity bill
Participation Per Event = $20
EnergyAustralia may call on you up to 20 times per year to assist in managing demand in your community when supply levels are low, meaning that your potential reimbursement over 3 years could be as much as $2,200.
How will it work?
EnergyAustralia will utilise their proprietary technology to access your battery and feed your energy back into the grid when electricity reserves reach critically low levels or during times of high wholesale prices.
In addition to the one-off fee for service of $1,000 that EnergyAustralia will credit to your bill on installation of your system, EA will also send you an SMS the day before a demand response event is due detailing the expected start time and duration. Participation is mandatory however, for each event we will provide a $20 payment credited directly onto your EA electricity bill.
What happens before, during and after a PowerResponse event?
A few hours prior to an event, EnergyAustralia will access your Redback system and make sure that your battery is fully charged.
During an event, EnergyAustralia will discharge your battery into the grid to provide additional electricity where needed.
At the end of an event EnergyAustralia will return control of your system back to you and process your participation fee.
You will be kept informed throughout by EnergyAustralia, via SMS.
How do you join the PowerResponse Program?
You need to be an EnergyAustralia electricity customer to participate in PowerResponse. Talk to your NRG consultant about the steps to join EA's PowerResponse program. The program is open to existing and new EA electricity customers.
Click here for full Terms and Conditions of the PowerResponse program.
Want to know if this exclusive deal is right for your home?
Call 1300 858 160 and speak to on our friendly solar experts or fill out our enquiry form and we'll call you.

Terms and conditions apply
*This offer is available for single phase power only. 270 Watt panels for single story residences with an iron roof only. Price includes racking. Net meter changeover not included. Does not include meter box upgrades. Adelaide metropolitan area. Must have internet connection. Final price determined by site inspection. Maximum two additional 2.4kWh batteries per system. Cash only price. System cost includes the use of STCs. Trial offer strictly limited to 50 solar PV & battery systems.
$1000 EnergyAustralia account credit is subject to being an EnergyAustralia electricity customer (new or existing) and signing up to the EnergyAustralia PowerResponse program. Click here for full Terms and Conditions of EnergyAustralia's PowerResponse program. Visit EnergyAustralia's website for EA Electricity rates and fact sheets.